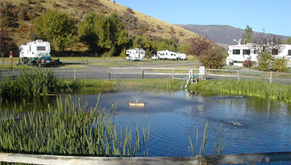 A new Recreation Hall was built in 2007 that seats about 100 people. Amenities include an audio-visual system with 100″ projector screen, 88 chairs, 25 tables, bathrooms, wifi, heating & cooling, coffee maker, refrigerator, and sink.
The Rec Hall allows us to host numerous rally groups per year, as well as a number of family reunion, auctions, and company meetings. As of 2017 we no longer host weddings.
Book 15 RV sites with us to receive special pricing on the Rec Hall!